MP & Associates
---
Κατάλογος Επιστημονικού Λογισμικού

---

Ηλεκτρονική & Σχεδιασμός PCB
---
Στην κατηγορία αυτή των προγραμμάτων περιλαμβάνονται εργαλεία για τον σχεδιασμό λογικών κυκλωμάτων και για τον σχεδιασμό PCB (printed circuit board). Αναλυτικά περιλαμβάνονται τα παρακάτω προγράμματα:
---
CIRCUIT MASTER
Analyze performance of any active or passive linear electronic network, from audio through microwave frequencies. Frequency response data and graphs in x-y, polar and Smith Plots. Simple data entry and operation.
DOS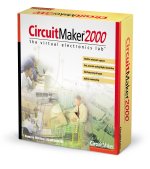 CircuitMaker 2000 (Standard and Professional versions)
CircuitMaker®, the popular schematic design and simulation software, is proud to announce its latest offering - CircuitMaker 2000™. CircuitMaker 2000 is your Virtual Electronics Lab, allowing you to design, simulate and output your printed circuit board designs. Exceptional ease of use and tight integration means you'll spend less time learning the software and more time designing. What's more, CircuitMaker 2000 gives you all the features of professional, high-end software at a fraction of the cost. Enables users to quickly draw any electronic circuit, then simulate the digital portion of the circuit. Users can expand CircuitMaker by designing additional devices and adding them to the library.
Win
D.C. Resistivity
Interactive forward modeling for resistivity sounding curve matching. Up to 30 data points per sounding, up to 10 layers per model. Uses Wenner, Lee, or Schlumberger electrode configurations.
DOS, Mac
DesignWorks
Advanced schematic editing tool with support for bussing, multi-page drawings, integrated symbol editor, error checking and hierarchy. Includes a library with over 10.000 symbols.
Win, Mac
Digital Filter Design Option 1
Speed up design cycles with Digital Filter Design. Yields better trade-off studies. Design filters to arbitrary response specifications and magnitude response. Includes an editor, numeric and graphic output.
DOS
Digital Filter Design Option 2
All the features of Option 1 plus designs for magnitude response and phase or envelope delay response.
DOS
dV/dt
Draw timing diagrams-signals, propagation delays, constrains and text. Make "what if" calculations like a spreadsheet. Import/export test vectors and symbol libraries. Document designs. Find timing problems before they find you!
Win, Mac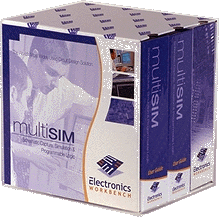 Electronics Workbench-multiSIM (versions: Personal, Professional & PowerProfessional)
multiSIM is a new version of Electronics Workbench. multiSIM is a complete system design tool which offers schematic entry, a comprehensive component database. SPICE simulation, VHDL/Verilog entry ansd simulation, RF capabilities, post-processing features and seamless transfer to PCB layout. Design and verify analog and digital circuits i a fraction of the time. Connections are always perfect. Wires route themselves. And the simulated components and test instruments work just like the real thing. Electronics Workbench is a worldwide standard for engineers, educators and hobbyists.
Win, Mac
HiWIRE II
Integrated schematic capture and PCB-layout software that supports extended/expanded memory and variable grids with up to 1 mil. resolution. Supports more than 400 output devices. Includes libraries for TTL, CMOS, microcomputer, ladder and discrete active components. PCB library includes SIPs, DIPs, surface mount devices, pin-grid arrays, netlist, bill-of-materials and design-rule-checking utilities. Accepts netlists from Algorex, Cadnetix, FutureNet, OrCAD, P-CAD, Schema, SciCards and Tango.
DOS
HyperElectronics
Tutorial and drill encourages student exploration into the building blocks of circuits. Close switches, change the value of resistors and the supply voltage on a circuit board display, and then see the results. Includes Task Sheets that guide students through the actual building of working circuits on Solderless Breadboards using only a few simple components.
Mac
KFTool
Library of mathematical and scientific calculations required for the implementation of U-D discrete Kalman filtering applications. Users can develop multi-language applications. Source Codes available.
DOS, OS/2
MacABEL
Programmable Logic Device design software. Accepts a high-level description of a circuit and produces a JEDEC programmer load file.
Mac
Mathcad Electrical and Electronics Engineering from Hicks Electronic Book
Includes circuit analysis, motors, transformers, power supplies, transistors, amplifier circuits, electronic equipment maintenance, choosing the proper power supply, electronics equipment reliability and mirror and lens systems. Requires Mathcad
Win, DOS, Mac
Mathcad Topics in Electrical Engineering
Topics include field patterns for a uniform linear array, waveguides, striplines, coaxial lines, two-port parameter conversions, network analysis using an addmittance matrix, american wire gauge table, transmission line impedance, the Smith chart, transmission line calculations, elliptic IIR filter design, Chebyshev polynomials, tranfer function calculations, polar plots and Nyquist plots; convolution and deconvolution, algebraic codes, quantizing a signal, delta modulation, z-transform applications and unit definitions. Requires Mathcad.
Win, DOS, Mac
Mathcad Electrical Power Systems Engineering Electronic Book
Topics include load flow calculations, power transformer efficiency, sequence impedance, mid-line fault calculations, induction motor start-up protection, transformer energization, typical transformer impedances and application of surge arresters. Requires Mathcad.
Win, DOS, Mac
Mathcad Finite elements Beginnings Electronic Book
Topics include an historical perspective of the FEA method, basic concepts of linear elasticity and principle of minimum potential energy and direct method, using interpolation concepts in 1D and 2D, apping elements, weighted residuals, and solving linear boundary value problems in 2D. Requires Mathcad.
Win, DOS, Mac
Mathcad Signal Processing Function Pack
Over 60 useful signal processing functions including function generators, transform analysis, spectral analysis, time series analysis, and digital filtering and filter design. Requires Mathcad.
Win, Mac
Mathcad Theory and Problems of Electromagnetics from Schaum's Electronic Book
Topics include Coulomb forces and electric field intensity, electic flux and auss'law, work, energgy and potential, current, current density and conductors, capacitance and dielectric materials, Ampere's law and magnetic field, inductance and magnetic circuits, Maxwell's equation and boundary conditions, transmission lines, waveguides and antennas. Requires Mathcad.
Win
Mathcad Theory and Problems of Feedback and Control Systems from Schaum's Electronic Book
Topics include differential equations, difference equations and linear systems,, control system terminoloy and definitions, Laplace transforms, z-transforms, stability and routh-Hurwitz criteria, transfer functions and characteristic equations, block diagram algebra, signal flow graphs, system sensitivity, Nyquist analysis and design, Root-Locus analysis and design, Bode analysis and design, Nichols analysis and design. Requires Mathcad.
Win
Mathcad Theory and Selected Problems of Electic Circuits from Schaum's Electronic Book.
Topics include DC rresistive circuits, DC mesh and node analysis, sinusoidal steady state and network analysis, circuit atransients, power and power factor, polyphase circuits, frequency response and resonance, Fourier method of waveform analysis, complex frequency, the Laplace transform method, state variable analysis, coupled circuits and transformers, average and effective values. Requires Mathcad.
Win
Mathcad Topics in Electrical Engineering Electronic Book
Applications include electromagnetism, wave guides, resonators, transmission lines, Smith charts, Antenna arrays, two-port parameters, system/transfer functions, feedback analysis, Bode plots, Nyquist diagrams, convolution, Fourier transforms and more. Requires Mathcad.
Win, DOS, Mac
Mathematica Electrical Engineering Pack
Extend the functionality of Mathematica for engg projects with specialized functions and practical examples of how Mathematica can be applied to problems in circuit analysis, transmission line theory and antenna design.
DOS, Win, Mac
MATLAB MMLE3 SSID Toolbox
Requires MATLAB.
Win, Mac
Micro-Cap 6
Micro-Cap 6 is an integrated schematic editor and mixed analog/digital simulator that provides an interactive sketch and simulate environment for electronics engineers. Micro-Cap 6, the sixth generation of the Micro-Cap family, blends a modern, Windows-based user interface with the robust and powerful numerical algorithms of SPICE and a fast, native, PSpice®-compatible, digital simulator to produce the most powerful and easiest to use circuit simulator available for personal computers. It is affordable as well, available at less than half the cost of comparable programs.
Windows
Nodal
Perform symbolic and numerical analysis of linear circuits using Mathematica. Components and analysis features include op amps, transmission lines and Smith Charts. Requires Mathcad.
Win, UNIX
smARTWORK
Design anb layout single and double-sided printed circuit boards. Ideal for first time or occasional designers since it is easy to learn and use.
DOS
smARTWORK-AR
Printed circuit board layout software for single and double-sided boards with auto-routing. Ideal for first time or occasional designers since it is easy to learn and use. Production quality artwork with pen plotters and checkplots. Accepts netlists from Algorex, Cadnetix, FutureNet, HiWIRE II, OrCAD, Schema, SciCards and Tango.
DOS
SuperCAD
Affordable computer-aided design software for electronic schematic design. Includes an extensive library of analog, digital, CMOS and discrete parts, automatic bus generation, automatic increment text, snap mode, constraint mode, draw-to-fit and zoom.
Win
SuperPCB
Affordable computer-aided design software for printed circuit artwork. Includes an extensive library of DIP, PGA, surface mount and discrete package parts, automated editing features, built-in autorouter, up to 16 layers, support for large boards, flexible output, draw-to-fit and zoom.
Win
---
Τελευταία Ενημέρωση 9 Νοεμβρίου 2005 - Last Revised on November 9th 2005
---
Συνδεθείτε με τα επόμενα ενδιαφέροντα Sites και δεν θα χάσετε!
Maple 10
MathCad 13
---
---
Η διεύθυνσή μας είναι: MP & Associates - Φορμίωνος 119-121 - ΑΘΗΝΑ 16121 - Τηλ: 2107600955 - Fax: 2107600956 e-mail: info@mpassociates.gr
---
Copyright 1999-2001 MP & Associates
Για προτάσεις, παρατηρήσεις, διορθώσεις επικοινωνείστε μαζί μας: webmaster@mpassociates.gr