MP & Associates
Κατάλογος Επιστημονικού Λογισμικού
Επεξεργασία Λυμμάτων - Βιολογικοί Καθαρισμοί
---
Στην κατηγορία αυτή των προγραμμάτων περιλαμβάνονται προγράμματα που βοηθούν στην επίλυση και προσομοίωση της λειτουργίας Εγκαταστάσεων Επεξεργασίας Βιομηχανικών και Αστικών Λυμμάτων (Βιολογικών Καθαρισμών). Αναλυτικά περιλαμβάνονται τα παρακάτω προγράμματα:
---
Fate of Toxics in Wastewater Treatment.
EPA-approved for estimating secondary emissions from synthetic/organic chemical, pharmaceutical and pulp and paper manufacturing sites.

Win
Tracks Ct, Disinfection & Disinfectant By-Products, turbidity reduction and more.
Water Treatment Plant Simulator.

Win
Wastewater Treatment Plant Storm Flow Capacity

Win
AllMax Operator 10® Plus Software.
AllMax Professional Solutions, Inc. is a worldwide supplier of operational and maintenance software for municipal and industrial wastewater and water treatment facilities. Products include: Wastewater Data Management, Water Data Management, BioSolids Data Management, Pre-Treatment Data Management, AllMax Task Manager (Maintenance Data Management), DataPort (Handheld data entry unit) and DDE Interface Application. Wastewater Data Management is a complete data management and reporting package for any type of wastewater treatment.
Win
BioWin
BioWin is a comprehensive tool for analysis of biological wastewater treatment systems. The package was developed with the primary objective of providing a powerful tool to aid both the process designer and operators of these facilities. The steady state analysis module. The user can define and analyze behavior of complex treatment plant configurations with single or multiple wastewater inputs. In this module each input represents a user-specified constant flow and composition stream. The dynamic simulator module. Time-varying inputs (flow rate and concentrations) to the system are specified, and BioWin simulates the dynamic response behavior subject to these inputs.
Win
EFOR
EFOR is a computer tool for predicting operating results from wastewater treatment plants. Fed with information about the sizes of the tanks, operation of the machinery and the composition of the wastewater, the program simulates the processes in the plant dynamically and then calculates the treatment efficiency and, for example, the consumption of oxygen and chemicals.
Win
EpSelon Suite
The EpSelon software suite covers all aspects of industrial and municipal waste water treatment. For the selection of waste water treatment processes and equipment. For the quick estimation of capital and operating costs of wastewater treatment equipment. The knowledge base containing the detailed information required for problem definition, selection, sizing, costing and operation of waste water treatment plant.
Win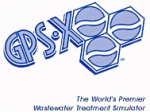 GPS-X
Hydromantis, Inc. is the leader in the development and application of wastewater modelling technology to real-world problems. GPS-X is the world's leading wastewater treatment plant (WWTP) modelling and simulation software package. With GPS-X you can mimic your plant interactively and dynamically, improve your plant capacity, save on operating costs.
Win
Process Advisor
Process Advisor is innovative wastewater treatment software featuring process control, simulation, state estimation, model identification, and more. Process Advisor is invaluable tool in visualising the unobservable carbon removal processes in aerobic reactor. The reactor can be completely mixed or plug flow reactor with any system of sludge and water feedings. Process Advisor MBR is a wastewater treatment software for membrane bioreactor.
Win
SASS and SASSPro
SASS and SASSPro are invaluable aids for process configuration comparisons, process optimization and sensitivity studies. Used in industry and academic wastewater courses, and by major municipal authorities, industry corporations and consultants in the wastewater industry, their design, ease of use and low cost have set new benchmarks in wastewater modelling software.
Win


Ακόμη διαθέτουμε:


Τον καλύτερο Κατάλογο 150+ Γεωτεχνικών-Περιβαλλοντικών προγραμμάτων που εισάγουμε αποκλειστικά!

---
Τελευταία Ενημέρωση 9 Νοεμβρίου 2005 -Last Revised on November 9th, 2005

Προηγούμενη σελίδα
---