Technical Summary
The Airport Pavement Structural Design System (APSDS) is the leading edge pavement design package for Airports and Heavy Industrial Pavements such as intermodal container terminal pavements.
The unique APSDS methodology rigorously incorporates lateral vehicle wander and state-of-the-art pavement material properties and performance models.
APSDS calculates the cumulative damage induced by the whole traffic spectrum comprising any combination of aircraft types and load configurations.
Any current design methodology can be used.
Easy to use, yet comprehensive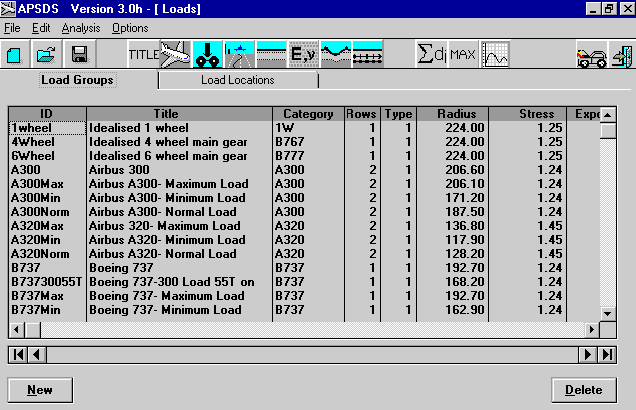 results in tabular form and report quality graphs.
Sample plot of lateral distribution of cumulative damage predicted by APSDS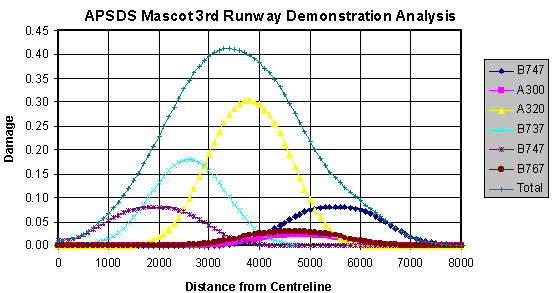 Traffic
no limit on the number of aircraft types or loading conditions
uses
actual multi-wheel gear layout
wander statistics specified by standard deviation
analysis explicitly uses specified spectrum
no erroneous short-cuts such as "equivalent" single wheels
special loadings such as braking included
does not require conversion to coverages
Material models
multi-layered pavement system
isotropic and anisotropic materials
wide range of performance criteria includes all popular models, including Shell and Corps of Engineers.
define your own criteria
System Requirements
386DX, 486DX or Pentium-based PC.
386SX and 486SX PC's require optional numeric coprocessor.
Microsoft Windows 3.1 or later and Microsoft Excel for Windows 5.0 or later.
Further details
Click here to view an Overview paper that describes the theory and applications for APSDS
Further Reading
---